Although they are non-fired, they are very safe, high quality and low price.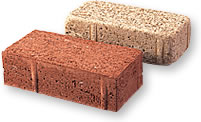 Sewer sludge, burned ash, coal ash, ceramics abolished soil [ Kira ], molten slag, glass waste and many other unused resources are utilized, and are regenerated to form a revolutionary brick style block, without baking, using our special slodificaton technology (Patent process).
We feel it is important to create materials of soft disposition, that feel like ceramics, which gives warmth and serenity to the cityscape.
Feature
resource conservation

80% of the raw materials are made up from several kinds of by-products from other industries, which result in absolute zero emissions. It is possible to produce strong, stable, durable bricks of long term quality by utilizing the best mix of raw materials with their own individual qualities.

Circulation type

We reuse the inferior goods which come out of the manufacturing process as raw materials, and also, because of the non-firing technology, no CO2 or factory draining watse is created. Furthermore, the products can be reclaimed as many times as possible after use.

energy conservation

Scrap materials without pretreatment can be used for raw materials, even without firing. Due to the fact that the fossil fuel is not burnt, excessive processes are excluded, so the production is energy-saving and cost-saving.

safety

From the acceptance stage of the raw materials, of course to the finished product, the process conforms to strict physical properties standards and environmental standards. Furthermore, we execute the original released metal content test with Ph3, which is above and beyond the safety satndards.

Scenery characteristics

The product looks a little like antique bricks, due to the ceramic kneading technology that is applied, and they will continue to mature attractively over the coming years of use.

consideration type

It is suitable for non slippy, comfortable, barrier free sidewalks. Furthermore, in order to produce good effects on vegetation and the living environment, special EM ceramics have been added to the raw materials.


Gifu-ken waste recycling recognition product


Eco mark executive office recognition,
environmental preservation commodity
Specification
Form
Use quantity (bricks/m2)
50 bricks/m2(100x200)
100 bricks/m2(100x100)
Pallet loadage (bricks)
600 bricks/pt.
1200 bricks/pt.
Weight
Scratch(100x200) 2.3kg/brick
Scratch(100x100) 1.1kg/brick
Scratch Cobolu(100x200 with round corner) 2.2kg/brick
Scratch Cobolu(100x100 with round coerner) 1.0kg/brick
We also produce different types of 50mm thick, without the lip.
Standard operation cross section diagram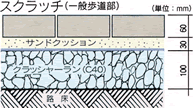 Safety data
| Item | result | metrical method |
| --- | --- | --- |
| Released metal content test | conformity | 18th environmental economical notification |
| Content test | conformity | 19th environmental economical notification |
Physical properties data
| Item | physical properties | standard level | examination method |
| --- | --- | --- | --- |
| Flexural strength (Mpa) | 8.2 | 5.0 or more | The interlocking block association method |
| Compressive strength (N/mm2) | 62.0 | 32 or more | Basis of JIS R 1250 |
| Resistance abrasiveness (g) | 0.098 | - | Standard of JIS A 5209 |
| Damp slide value of resistance (BPN) | 76.3 | 40 or more | ASTM E-303 |
| Frost damage resistance characteristic | No abnormality | - | Basis of JIS A 5209 |
| Coefficient of permeability (permeability type) | 3.732*102cm/sec | 1*102cm/sec or more | Basis of JIS A 1218 |